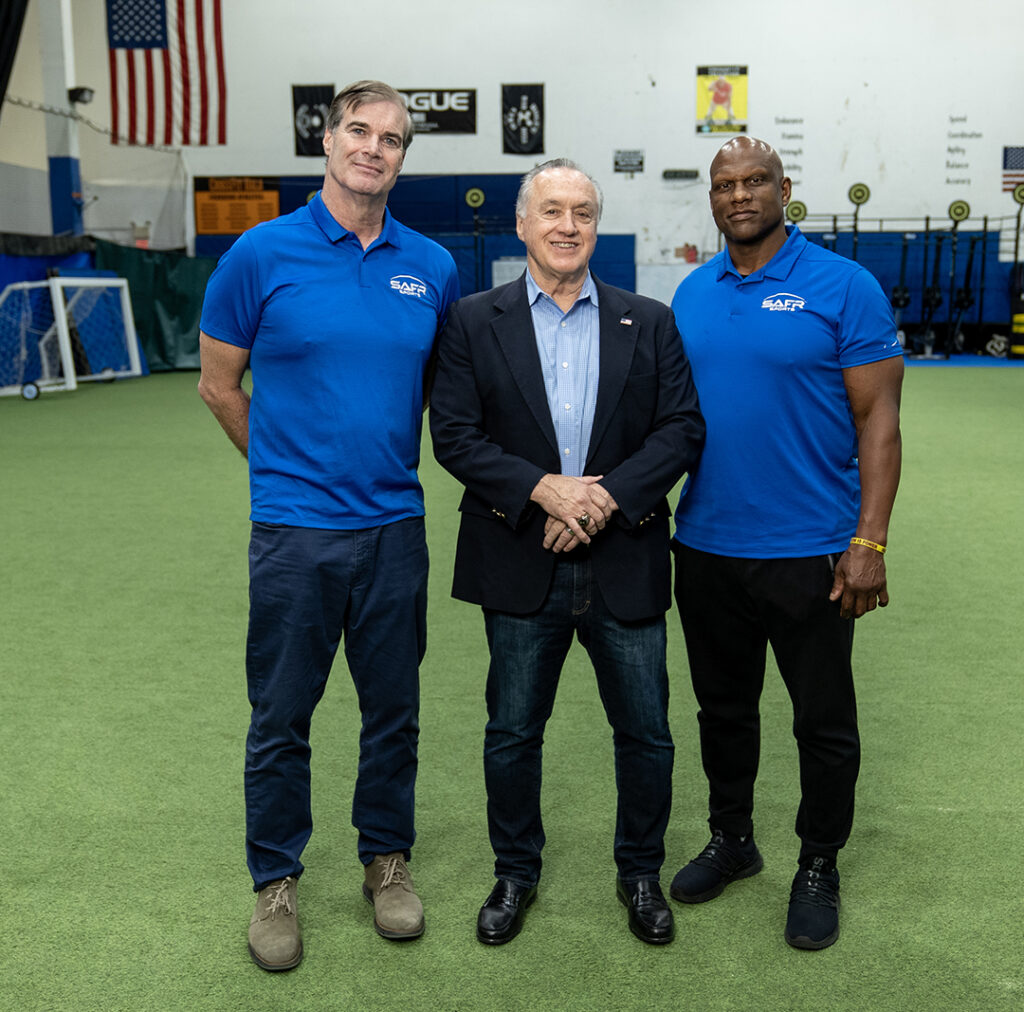 John Zeglinski – Co-Founder, President and CEO
John is a Co-Founder of SAFR Sports. John brings over 40 years of business experience to the company and most recently, 5 years as the VP of National Sales Development for Defend Your Head. Prior to that, John was the President and CEO of DC&R Promos, a printing and promotional products company which specialized in serving the university and high school marketplace both locally and nationally. John is a graduate of Wake Forest University where he played football and baseball and is a member of their Athletic Hall of Fame.
Carlos Bradley – Co-Founder, Vice President, Chairman of the Board
Carlos is committed to the company mission and became SAFR Sports' first "Hero" by providing SAFR Helmet Covers for the football team at Mastery Charter School in Philadelphia. As well as being one of the premier personal trainers in the country, Carlos brings over 25 years of experience working with student athletes, preparing them for college and life after college as an Executive Vice President of ISAA (International Student Athlete Academy). Carlos is a graduate of Wake Forest University where he played football and achieved All-American status. After graduation, Carlos played 6 years in the NFL.
Greg Lewis – Chief Financial Officer
Greg has more than 30 years of corporate lending experience. His background includes vendor finance, asset-based lending, and real estate finance. Most recently he was Managing Director – Real Estate with Leisure Financial Group, a service-oriented finance company that originates and structures loans for clients throughout North America and the Caribbean.
John Miller – Director, NFL & College Sales
John's career has been focused on bringing innovative products to athletics for healthcare improvement. His background includes owning a sports equipment company, running a school health corporation, and directing the sports medicine division for a large medical supply company. He has established close relationships with those in the sports medicine and athletic training professions, and he is dedicated to helping make sports as safe as possible to play at the highest levels. Miller played football at the University of North Carolina.
Billy Ard – Director, SAFR Hero Initiatives
Billy played 11 years in the NFL and won a Super Bowl with the New York Giants in 1987. After his playing career, Bill spent 30 years as a financial advisor. His roles in the industry have included Senior Vice President of Wealth Management at Morgan Stanley and SVP of Investments at UBS. At SAFR he will be involved in developing and maintaining SAFR client relationships and partnerships with organizations that are committed to sports safety. Billy is a graduate of Wake Forest University and is a member of their Athletic Hall of Fame.
John McClung – Director of Marketing
John has led marketing and creative teams for over 30 years, and prior to joining SST he was Vice President of Advertising for Independence Blue Cross, the largest health insurance company in the region. While there he oversaw brand management, all digital and social communication channels, as well as the advertising and creative services efforts for IBX and its subsidiaries that currently serves more than 10 million customers. John also serves on several boards, including the Philadelphia Union Foundation and Reins of Life equestrian therapy. He earned his English and French degree from Villanova University, and a masters degree in Publication Management from Drexel University, where he played collegiate soccer.