SAFR Sports is a proud partner of Pennsylvania Scholastic Football Coaches Association (PSFCA) Big 33 Football Classic. This partnership will help us create a safer on-field environment, giving athletes and parents peace of mind to better enjoy the great game of football.
The Big 33 Football Classic features the top players from Pennsylvania going head-to-head with Maryland's finest 33 players. Long known as the "Super Bowl of High School Football," the game originated in 1957 and is still considered one of the finest scholastic All-Star football games in the United States.
Memorial Day Game – Monday, May 30, 2022, 2:00 pm Kickoff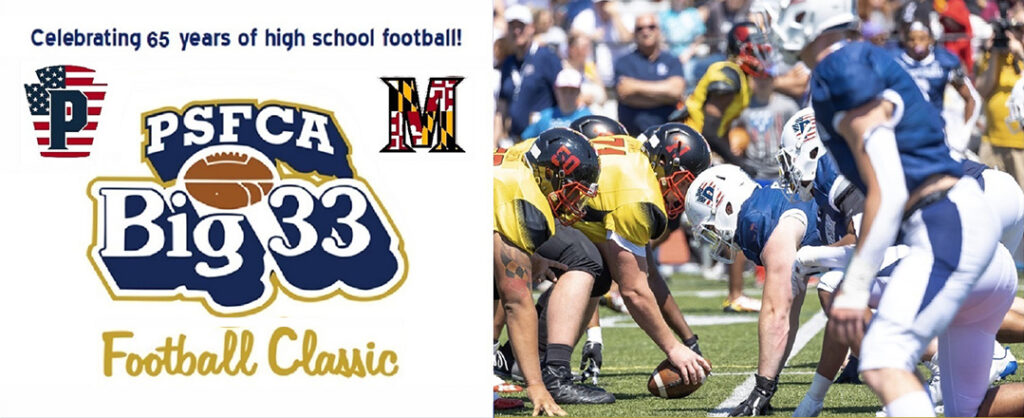 Rocco Ortenzio Stadium • 1 Crusader Way, Harrisburg, PA 17111
Look for the SAFR Sports booth at the game!
PSFCA and SAFR Sports
The PSFCA shares SAFR Sports mission of providing a safer environment for all participants in contact sports, whether it be tackling technique, rule modification, or recommending the best equipment available, like the innovative SAFR Sports' ProTech soft-shell cover.
The ProTech fits over football helmets and uses Scientifically Advanced Force Reduction technology that is scientifically proven to reduce force and impact acceleration which can lead to head trauma and neck injuries. ProTechs are worn by nearly 300 football teams, including youth leagues, high schools, and colleges in every Power 5 conference.
A two-year partnership with the PSFCA is aimed at making high school football players safer. It includes Big33 game sponsorship, health and wellness education for coaching clinics, and an annual award for a school's Athletic Director, Trainer, or Coach who exemplifies safety for their team.